Search for a New Nissan
Visit Us
Monday

8:00 a.m. - 8:00 p.m.

Tuesday

8:00 a.m. - 8:00 p.m.

Wednesday

8:00 a.m. - 8:00 p.m.

Thursday

8:00 a.m. - 8:00 p.m.

Friday

8:00 a.m. - 8:00 p.m.

Saturday

9:00 a.m. - 6:00 p.m.

Sunday

Closed
Learn Why Drivers Hailing from Frederick, MD Choose Hamilton Nissan as Their Dealership of Choice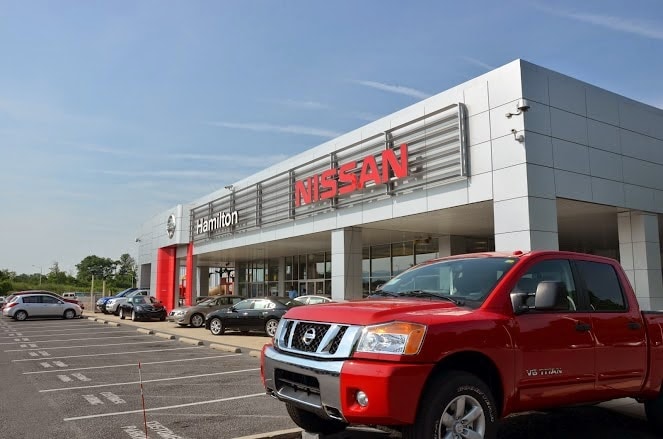 Here at Hamilton Nissan, we pride ourselves in being able to offer drivers from the Frederick, MD area the best selection of vehicles possible. The new Nissan lineup is filled with some great options just waiting to be explored. We offer you much more than a mode of transportation as well.
Learn About the Hamilton Family Plan and Hamilton Nissan for Life
By signing up for unique perks like the Hamilton Family Plan, you can receive a lifetime of 50% off oil changes, tire rotations, and other routine maintenance work for all of the vehicles in your family. But wait, there's more!
We also offer the Hamilton for Life program, allowing you to enjoy complimentary services like oil changes, car washes, and other perks like a lifetime engine guarantee. The benefits of choosing Hamilton Nissan as your dealership for life are simply endless.
If you're ready to get started with finding your dream car, be sure to visit Hamilton Nissan, today!
Get Directions to Hamilton Nissan from Frederick
Get Directions
We Offer Nissan Rentals at Low Rates

 In addition, we offer assistance if you every find yourself in a situation where your vehicle isn't drivable. Thanks to Hamilton Nissan Rentals, you can get back on the road and choose from low, competitive rates on a quality vehicle that can be rented for as low as $28.00 per day. We want to accommodate you the best that we can, which is why we try to go above and beyond with what we offer customers.
Rent a Nissan Sentra