Battery Replacement Serving in Hagerstow at Hamilton Nissan

Do you have concerns about the performance of your vehicle? Perhaps you can't get it to start or when it does, it doesn't have the power that it used to. If this is the case, your vehicle may be in need of a new car battery. When it seems to be no longer performing like the day you drove your vehicle home, bring it to Hamilton Nissan to get it replaced.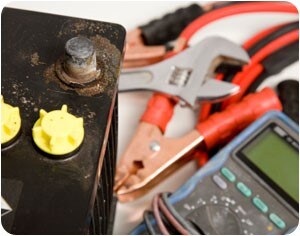 Here at our auto repair center, our team of experienced technicians are available to inspect your vehicle and determine the kind of battery that is needed. The average car, truck or SUV battery lasts about five years. If you're unsure about whether or not a replacement is required, we can help checking the date and by performing a battery test.
In the event that you get your vehicle's battery replaced and there are still problems, this means your battery terminals could be in need of a cleaning. Over time dirt build up and corrosion can occur. Our technicians will go in to clean them, apply anti-corrosion spray, and protect the terminals from corrosion in the future.
Signs and Symptoms Your Vehicle Battery Needs Attention:       
Headlights are dimmer, especially during and right after starting your vehicle
Horn sounds weaker than normal
Engine cranks more slowly than normal
Loss of power in accessories or erratic electrical system functionality
Blown fuses
Engine will not crank
An electrical system dashboard warning light (usually a battery) will remain on while driving
A car battery is an extremely important component of your vehicle, as it is needed to power the electrical devices and accessories, power steering, and of course it is responsible for starting your car. Whenever you begin noticing something seems off when you start your vehicle or its electrical components are not performing properly, bring it to Hamilton Nissan right away.
Our conveniently located Hagerstown car repair shop serves drivers hailing from the Waynesboro PA, Chambersburg PA, Frederick MD, Martinsburg WV and Winchester, VA areas. You can count on us for all of your automotive needs. Make your appointment online, or by calling (301) 733-7222. We hope to see you soon!